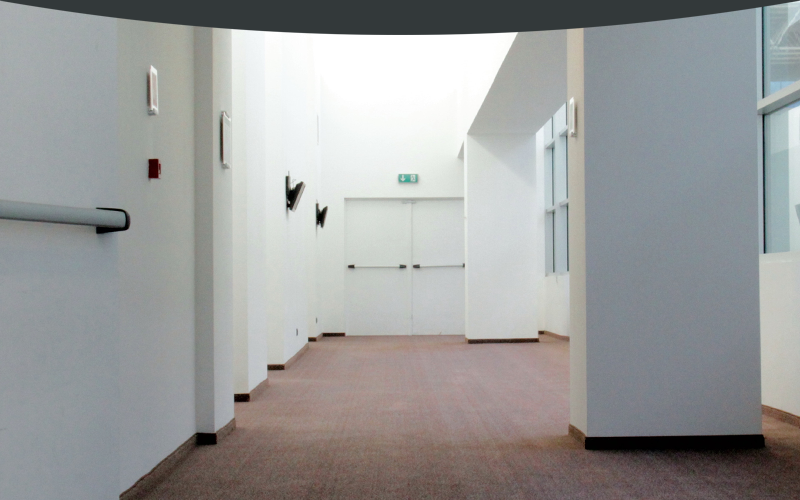 Windows and Doors
E.O'Neill Group Window and doors division are specialists in bespoke uPVC / aluminium doors, Bi-folding Doors and Windows. Our products combine high grade uPVC and aluminium with precision engineering to create functional and elegant products which are designed to last.
---
Internal and External Doors
With our masses of experience within the Industrial and Commercial Door industry we offer the full package, right through from door planning, site surveys, door design, door production, door assembly to installation.
Our products can cater for almost any requirement, from Acoustic and CE marked Security Rated range (LPS1175 DS1, 2 and 3) to our ultra modern, aesthetically pleasing, fire rated Slim Line range. Our doors are fitted by our experienced fitters and come with a manufacturer's guarantee.
Our traditional door ranges can be manufactured with a fire rating of over 6 hours (BS476), a SR3 security rating, acoustic dampening of up to 50 db, 100% flood proof and all are designed to the end users specification.
Our vast range of designs can offer up to 120 minutes fire rating along with a high security rating and low U values.
All products are available in any BS or RAL colour and are typically manufactured and ready for fitting within 10 working days.
---
Fire Rated Steel Doors
Our Fire Rated Steel Doors have been independently 3rd party tested and offer certification in excess of 6 hours. With a large range of hardware options avaiable as the door has been tested both 'latched' and 'unlatched'. The door is manufactured from 1.5mm zintec steel guaranteeing it being both strong and secure.
Our Fire Doors are manufactured to the highest quality and are suited both to internal and external applications.
Applications
External factory doors
Warehouses
Offices
Schools
Store Room
IT Rooms
Retail outlets
Features
Offers a 6 hour fire rating in conjunction with BS 476 Parts 20 & 22
Dense Rocksilk 45 core
Leaf: 1.5mm or 2mm Zintec Steel
Frame: 1.5mm or 2mm Zintec Steel
45mm thick door leaf with a choice of either a flush or lipped astragal
188s Bronze seals
Double skinned with interlocking strengthening seams
Power Coated doors are pre-treated and primed to offer additional protection
Vertical Anti Twist Interlocking welded channel core
A choice of vision panels available (this will reduce rating)
A choice of louvers available (this will reduce rating)
Steel Personnel Doors
Each steel door is engineered and manufactured to client specification, and can be manufactured in 1.2mm, 1.5mm or 2mm Zintec Steel with a double skin construction. Custom steel doors offer the flexibility allowing a wide range of features ensuring each door is designed and fitted to your requirements.
They can be powered coated to any BS Number or Ral Number and can also be fully glazed if required.
---
uPVC Windows
Our Aluminium and UPVC double glazed windows are manufactured to the highest quality standards, only using the best materials available. Window designs. We can tailor your windows to your exact needs ensuring to produce the window style you require.
Window Energy Rating (WER)
You will receive an ultra-efficient 'A' rated window. Our latest casement windows utilise the most advanced double glazing on the market achieving a rating of A+9 one of the most advanced in the country meet building regulations standard.
Energy Efficiency
Our energy efficient windows will make a real difference in the winter reducing the loss of heat through the window reducing energy bills. The special coating on each pane of glass reflects heat back into the room. All of our windows are filled with argon gas which is extremely effective in reducing heat loss as it has a higher density than air.
New triple glazed windows
Using the same advanced glass specification as our standard 'A' rated window our triple glazed window adds an additional pane of energy efficient Pilkington KS glass, achieving the highest performance rating 'A+' as by the BFRC Standard.
Security
Yale high security locking systems built in – with optional shootbolt locking
Internally beaded – glass can only be removed from the inside
Window handles have key locking
Two stage locking system where the window is completely closed on the first setting but allows airflow through a small gap on the second setting, while still being locked
Window profiles
Our profile extrusion is supplied by Profile 22, one of the leading extruders in the country. We can use 58mm, 65mm and 70mm systems.
Glass
To achieve a highly energy efficient window we use Pilkington EnergiKare which is the latest glass technology. All windows are supplied with the following glass make-up:
Inner pane – Pilkington KS
Outer pane – Pilkington Optiwhite
Gas filling – Argon Gas
Spacer bar – SuperSpacer
Thickness – 28mm or 36mm for triple glazing
Colours
Aluminium windows – are polyester powder coated with a choice of over 200 ral colours. PVC – windows are available in white, rose wood or antique oak.
Production
Our quality control system ensures that each window is manufactured to the highest standard ensuring both accuracy and a high quality finish.
Guarantee
Frames – This 10 year warranty is in respect of colour stability, shape retention and impact strength retention. Sealed glass units: 5 years against condensation inside the unit. Furniture: 1 year against failure in operation.
---
Call us on 01902 212422 or email us at info@eoneillgroup.com for more information.